Latest News
Christmas 2021
Having been through a complete year of not being able to carry out our usual activities due to Covid it was good to realise that, with careful restrictions, we could arrange for Santa to come to Matlock again in 2021. And so we had a Grotto at the Council Late Night Shopping event, two days at the Victorian weekend and two days at the Christmas Market. And it ended up being a record year with us seeing 600 children at the 5 events. Santa went off with very few presents left in his bag which he was delighted about.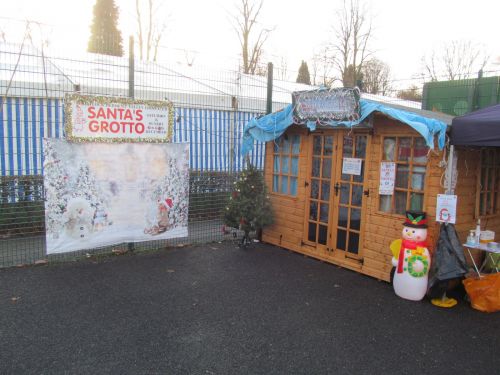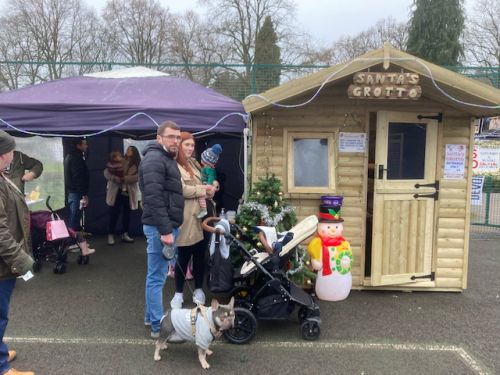 Victorian Weekend
Christmas Market
Christmas 2020
Due to the ongoing Covid restrictions the venues for our Santa's Grottos have both been cancelled and so, with Santa being in a generous mood we found ourselves with a lot of presents on our hands. The suggestion was made that we ask Jigsaw Food Bank if they could use some of them and they were absolutely delighted to accept. This led to 191 presents across a variety of age groups being delivered to Jigsaw for distribution. We also managed to join forces with Wirksworth Rotary on this project and they supplied selection boxes of chocolates for children.
We then found that the Ian Nicholson project was doing a similar project for Christmas, working mainly in Darley Dale area and so we were able to supply a further 67 gifts for their use.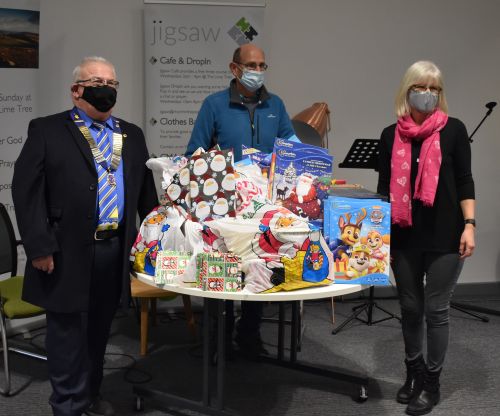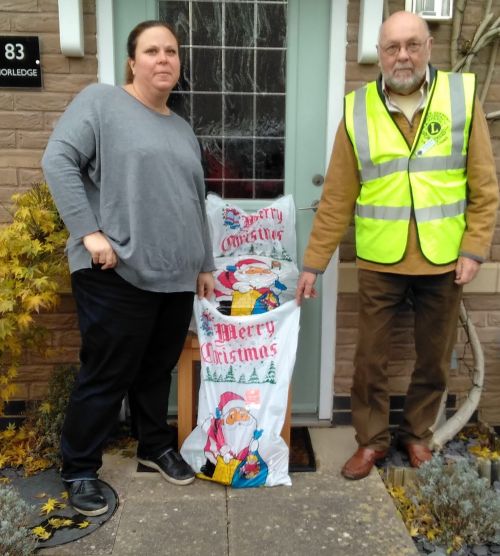 Lions Clubs' £160k boost for local air ambulances
Air ambulances across the British Isles will receive vital equipment in the battle against COVID-19 – thanks to generous £160,000 grant from the Lions Clubs International Foundation.
"We know that air ambulance charities have been busier than ever during the coronavirus pandemic. They've faced considerable extra – unbudgeted – day to day costs – at the same time as lockdown has affected fund-raising.
Now, thanks to an emergency COVID-19 relief grant from the Lions Clubs International Foundation in the US, we can provide immediate support for this emergency service that touches lives in all our local communities."
Working with Air Ambulances UK, Lions Clubs compiled a list of equipment and supplies needed by individual air ambulance charities – totalling £161,468.
Local Lions have continued to support their communities facing difficulties due to COVID-19. This latest boost for air ambulance charities comes on top of £140,0000 awarded in grants to foodbanks and other causes nominated by Lions clubs across the British Isles.
As well as their 'day job' - responding to accidents, traumatic incidents and medical emergencies - air ambulances are supporting the COVID-19 response to help reduce the huge burden on the NHS and other public services.
The equipment and supplies they requested, which has been funded by the Lions Clubs International Foundation grant, includes isolation capsules and decontamination units, separation screens, PPE, ventilators, respirators and hoods, a thermal screening camera and monitoring system, compression devices, fluid warmers, an ultrasound cardiac probe, and mobile connectivity devices.
Heather Benjamin, Chair of Air Ambulances, UK said: "The donation of equipment and supplies by Lions helps air ambulance charities to support the COVID-19 response and their communities in these extraordinary times and beyond."
Santa's Grotto
The bearded wonder has delighted us with his presence again this year at the Victorian weekend and he saw 250 children to find out what they wanted for Christmas and made sure they all had a gift to go away with.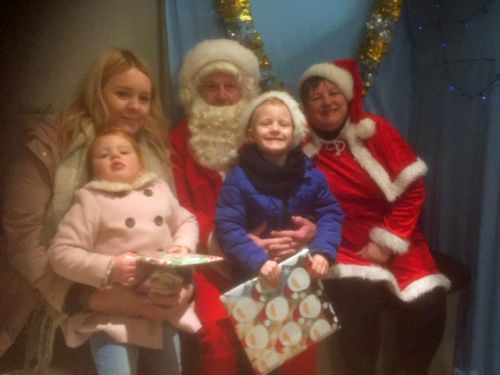 Children in Need
We were asked by the BBC if we could help with collecting money when this year's Rickshaw Challenge arrived in Matlock Bath Derwent Gardens. Four Lions and two grandchildren answered the call and people were very generous on the night.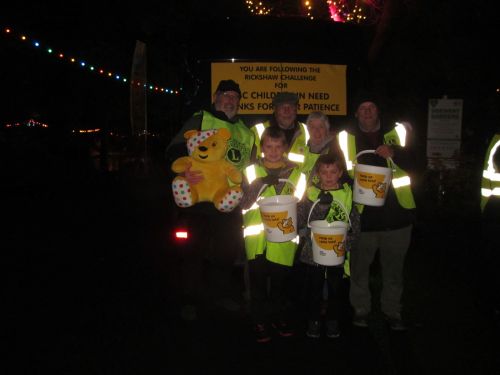 Matlock Wednesday Market
For two Wednesdays in August we were allowed a stall on the market to promote ourselves and also show the public our Message in a Wallet, Message in a Bottle, Plugsters and Magnifiers. We also had leaflets available about Diabetes awareness.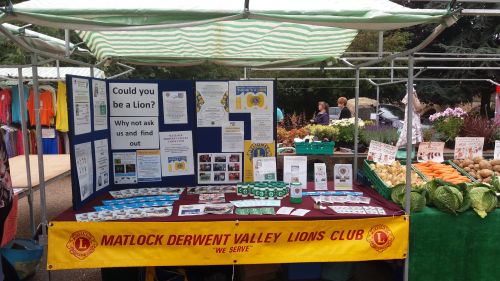 Chesterfield Memory Market
We were invited by Walton Hospital to their day aimed at people with dementia. We took our Message in a Bottle, Message in a Wallet, Plugsters and Magnifiers and handed these out to interested people.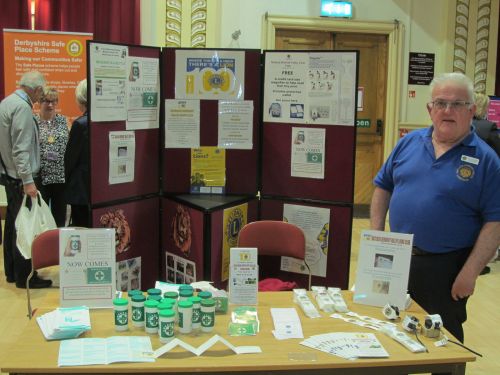 Marie Curie Collections 2019
We were out again with the buckets and silly hats to help raise essential funds for Marie Curie. This year we managed to collect £1017.68 and brings our ongoing total for the last eight years to £7556.87. Thank you all for your generosity.
Christmas 2018
Santa was again in Matlock for both the Victorian Weekend and the Traders Christmas Market and managed to see 522 children despite some atrocious weather.
Peace Poster Competition 2018
The only school to take part this year was S Anselms at Bakewell and Abbey Lawson was selected as the winner locally. She then went on to win the District 105E competition and progressed to the National Finals.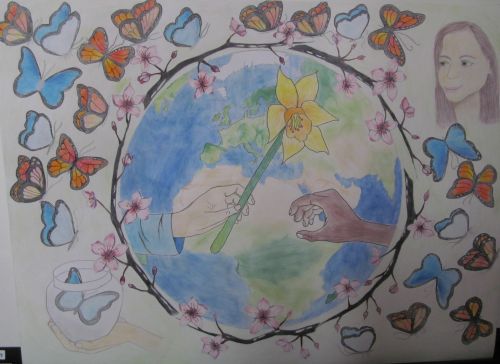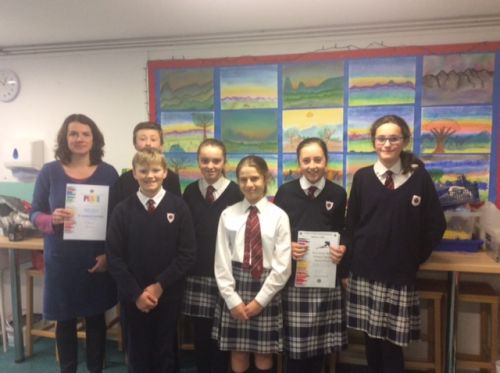 Marie Curie Collections 2018
Less collections arranged this year but we still managed to collect £765.76. Again many thanks to all the generous people who helped us achieve this.
Christmas 2017
Santa made his annual trip to Matlock at the request of the Lions to help with the Victorian weekend celebrations on Hall Leys Park. He saw 277 children and sent them all home with a gift. A lot of hard work but great to see the smiles on the children's faces.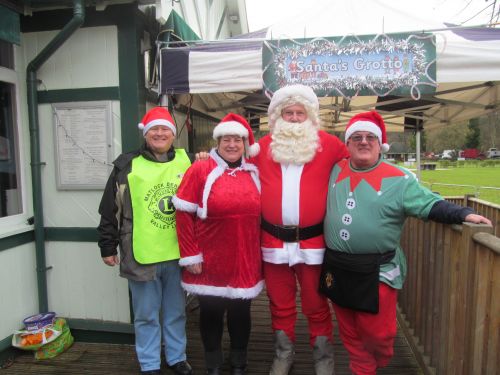 Then he made a return trip for the Christmas Market and saw another 258 children there. Santa now needs a rest before the big day!!
Marie Curie Collections 2017
We have again been collecting in Matlock, Wirksworth and at Sainsbury's Matlock and have raised an incredible £1,362.36 for Marie Curie. Our thanks go to all those generous people who have contributed to this cause.
Bakewell Bric a Brac Stall
A successful stall was held at Bakewell Methodist Church raising £138 for Club funds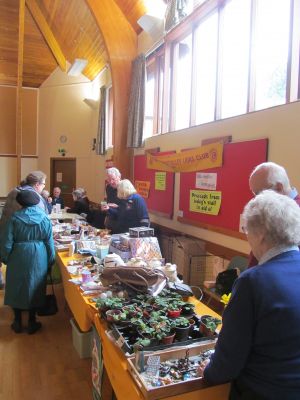 Matlock Disabled Club
We took on the task of entertaining the Club with some folk songs, led by David Winder on guitar, and then provided members with a tea before they went home.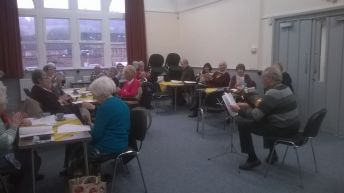 Santa's Grottos
2016 saw us having two days at the Matlock Victorian Weekend and two days at Matlock Christmas Market when we were able to book Santa for his annual visits. The result was he saw 490 children altogether giving out presents and listening to their requests for all manner of presents to be delivered on Christmas Eve. Delightful was the number of "first time" visitors whose proud parents wanted to start off the family album with pictures of the baby with Santa - and Santa enjoyed it as well.
2016 Peace Poster Competition
This years International Competition for students aged 11-13 attracted entries from Anthony Gell School, Wirksworth and Highfields School, Matlock. The subject was "Celebrate Peace" , entries were judged by local artist, Pollyanna Pickering, and the winners from each school went forward to the District finals in November. Unfortunately neither of them was successful in going further in the competition. Our pictures show the two winners, Lily Wyatt from Highfields and Tatum Treanor from Anthony Gell with their entries.

Fundraising Concert
A Classical Concert organised jointly with Bakewell Village Aid was held in Bakewell Parish Church on 30th September. The evening raised £785 which was split between the groups with the Lions share being donated to Hearing Dogs for the Deaf.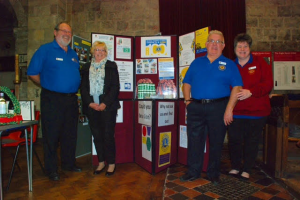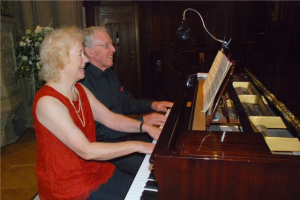 CIVIC AWARD

The Club was proud to receive the Matlock Town Council Mayor's Civic Award for 2015/16 at the Civic Dinner
QUEEN'S 90TH BIRTHDAY BEACON
Matlock Town Council asked the Lions to arrange for the beacon to be lit at Riber Castle to celebrate the Queen's Birthday. This was lit by Mayor, and latest Lion recruit, Councillor Steve Flitter
l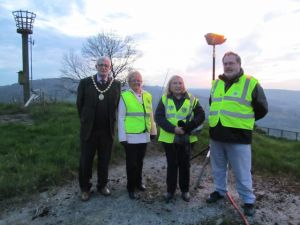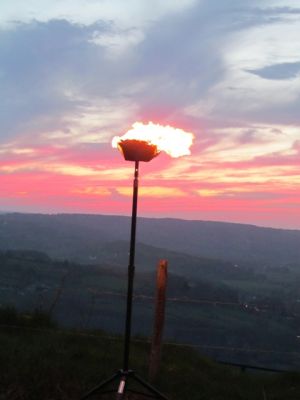 PEACE POSTER COMPETITION 2015
This time the subject was "Share Peace" and entries were received from Highfields School Matlock, Anthony Gell School Wirksworth and Lady Manners School Bakewell. Winners were chosen from each school by Polyanna Pickering and sent on to the District Competition. Unfortunately none of them were chosen as winners this year. Our picture shows two of the winners with their entries.

ARCHERY
Eva Henderson-Hirst is a member of Derwent Bowmen at Darley Bridge and at 16 is already a National Junior Champion. She is aiming to get to the Olympics in 2020 in Tokyo and the Club have now given her two donations to help with her training costs. To get the feel of the sport several members went along for an evening's training and apart from one arrow ending up looking like a hockey stick after it hit the roof, everything went very well. In the pictures Eva shows us how it should be done and then the efforts of some who attended.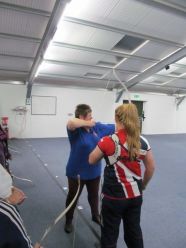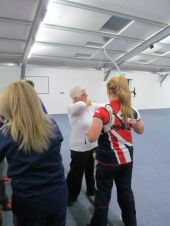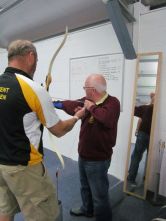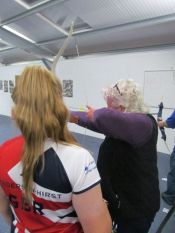 Peace Poster Competition 2014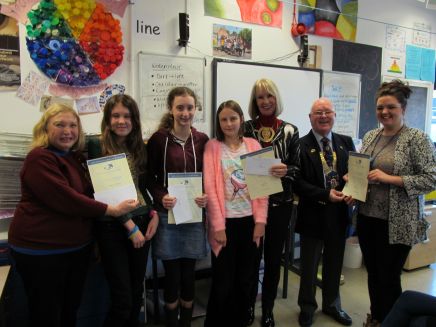 Each year Lions Clubs International runs a competition for young artists to design a poster based around the subject of "Peace". In 2014 the topic was "Peace, Love and Understanding" and three artists from Anthony Gell School in Wirksworth entered. Maddy Williams-Hunter was awarded first place with runners up Rebekah Link and Freyja Griffiths. Judging was done buy local artist Pollyanna Pickering. Maddy went on to win the District final but sadly did not make it through to the International final. Our picture shows certificates and prizes being presented to the artists and the school by Pollyanna Pickering.
Marie Curie Collections 2014

Lions Clubs nationwide have been helping with Marie Curie daffodil collections during March and we have been busy at Sainsbury's and Co-op stores. The result is a magnificent £1297.24 being raised through the generosity of local people for which we give hearty thanks. This money will provide 65 hours of Marie Curie Nursing care in peoples homes. Here we are looking stupid in our hats but they did raise a few pounds from people taking pity on us!!!
Similar Collections in 2015 raised a grand total of £1384.20
Christmas Raffle at Matlock Co-op 2013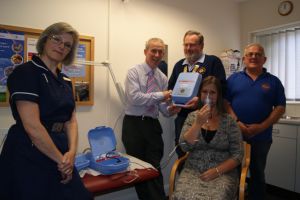 In a change of prizes this year we offered Co-op vouchers instead of a Trolley Dash to the winner and the event raised £550 for Asthma work in Matlock area. Three Nebulisers have been provided to Lime Grove Surgery for use in the area.
Santa's Grotto 2013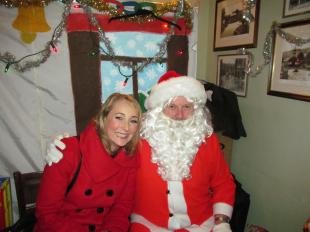 As part of Matlock Victorian weekend Santa found time again to join the Lions in his Grotto on Saturday and Sunday. 312 children were thrilled to chat to him and receive an early present. On the Saturday, East Midlands Today reporter, Sarah Teale called in for a cuddle after she had switched on the Matlock Christmas lights.
Charity Auction
Although numbers attending this event in October were very low the profit on the evening was tremendous and a donation of £1200 was made to Matlock First Responders and £300 was sent to the Phillipines Relief Appeal organised by Lions International Foundation. Our grateful thanks go to all the businesses in the area who helped by donating prizes for the event.
Diabetes Screening
Our screening event in April attracted 77 people to have their blood tested and, of these, five were referred to their own Doctor for follow up.
Lions European Young Musician
This competition is open to young people age under 23 and the instrument chosen changes each year. For 2013 the piano was the choice and Matlock Derwent Valley Lions Club was proud to sponsor Dominic Degavino as the entrant for our District in the competition. The finals were held at Birmingham Conservatoire in April where Dominic faced stiff competition from five other young people playing a Mozart Rondo as the compulsory piece and the Choral and Variations by Dutilleux as his optional piece. He was the unanimous choice of the judges as winner in both categories and went to the European Final of the competition held in Istanbul at the end of October where he finished in the top six.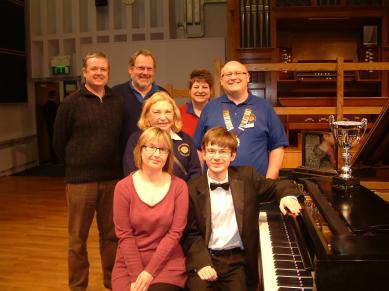 Our picture shows Dominic with his trophies and his proud parents Ellis & Deborah and supporting Club members.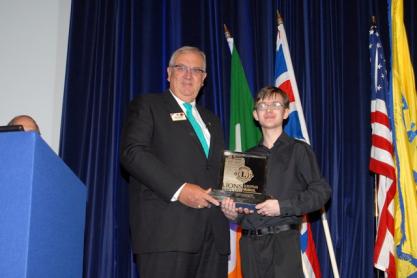 Following his performance at Multiple District Convention Dominic is seen with International President Wayne Madden and the trophy.
Strawberry Garden Party 2012
This event, on a stormy summer Saturday, at the home of two of our members in Wirksworth raised £285 for Club funds
Trolley Dash
The 2012 Trolley Dash raised £450 for the benefit of Rainbows Hospice for Young People which is based in Loughborough and serves this area. Thanks to all who took part.
If you would like more details about the hospice go to www.rainbows.co.uk and they also have an Open Day on 14th September.
Santa's Grotto
This year (2012) Santa managed to see 291 children over the two days of the Matlock Victotian weekend, sending each one home with a gift. Anna Church from East Midlands Today visited the grotto after switching on the town's Christmas lights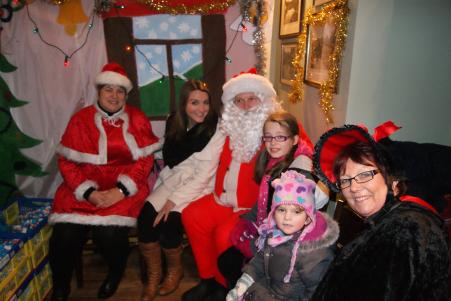 Pudding Night
Our successful Pudding Night raised £500 which is being donated to Derbyshire British Red Cross towards the purchase of a new Emergency Support Vehicle. Our picture shows the cheque being presented at the Santa's Grotto.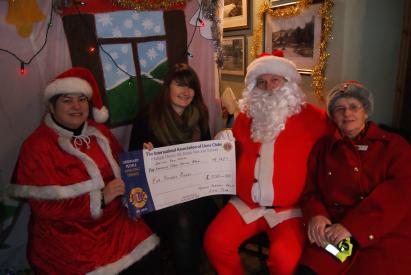 Sainsbury's Collection
Many thanks to all customers at Sainsbury's who contributed to our collection in October. We raised a grand total of £375.75 which will help us to help those in the area less fortunate than ourselves.
Diabetes Awareness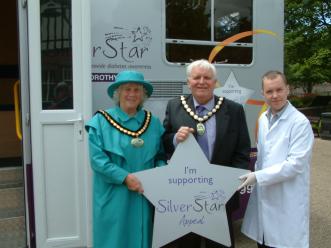 As part of the Matlock 100 years of Hall Leys Park celebration we conducted a Diabetes Screening event on the Park. In 6 hours 66 members of the public were screened with several being given the news that they should discuss their blood/glucose levels further with their own doctor. We are grateful to Silver Star UK for conducting the tests.
Our pictures show the unit in place on Park Head and Judith Twigg, Leader of Derbyshire Dales District Council, and Barry Hopkinson, Mayor of Matlock after their screenings by Wojciech Majchrzak of Silver Star
---
Past Achievements
During our busy 2010 Christmas period we held a collection at Sainsbury's in Matlock which raised £323 for our funds. We also organised a Trolley Dash raffle at Co-operative store in Matlock which, after taking out the prize money, raised £383 for Riding for the Disabled at Tansley. Thanks to all who donated to either or both of these events. Although the Matlock Victorian Weekend was postponed due to the weather Santa still managed to get here and saw 234 children over the two days.
Shown below are some of the items we have presented to local groups and others we have helped over the last few years.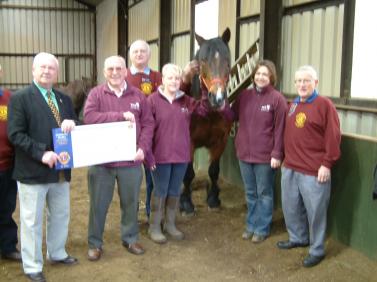 Riding for the Disabled at Tansley was the recipient of the proceeds of our
Christmas Trolley Dash. A cheque for £400 was presented to them towards the
cost of a disabled toilet facility on their site.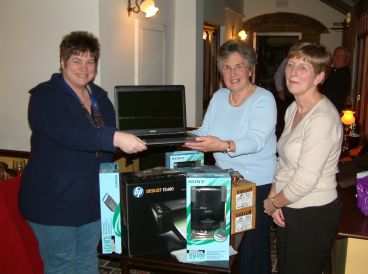 Matlock Talking Newspaper were the recipients of a computer, printer, recording play-back machines and a year's supply of tapes.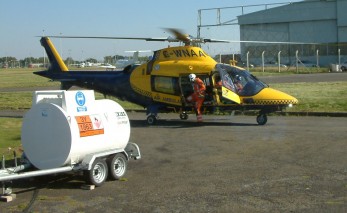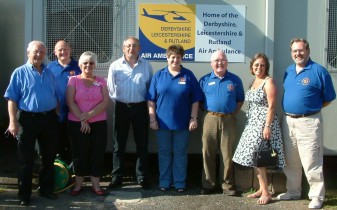 Derbyshire, Leicestershire, Rutland Air Ambulance crews were the recipients of twelve state of the art stethoscopes. Lions members are seen at the base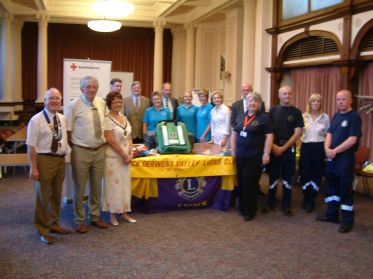 Matlock First Responders were the grateful recipients of a new set of kit, including a defibrillator, for use by a new team of responders.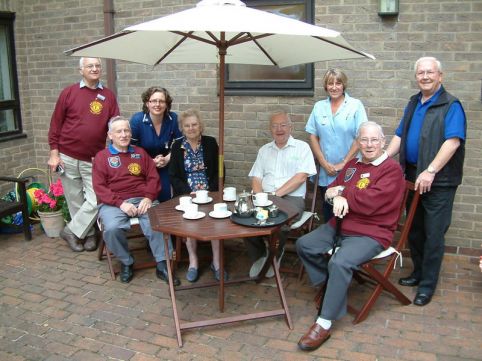 Whitworth Hospital patients are able to sit out in the sunshine following the purchase of patio furniture for the ward.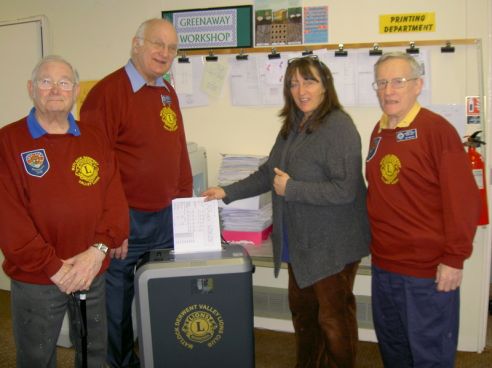 Greenaway Workshop needed a commercial shredder to dispose of a large quantity of confidential papers.
An amazing total of £783 was donated by shoppers at the Co-op store in Matlock in September towards the Pakistan Flood Disaster relief fund set up by Lions Clubs International Foundation. 100% of this money will be used to help rebuild the lives of the local people. Thank you to everyone who donated.
Our Last Night of The Proms Concert given by Matlock Band and Lah di Dah in October has raised £700 to be donated to Help for Heroes. Thank you to everyone who supported us.