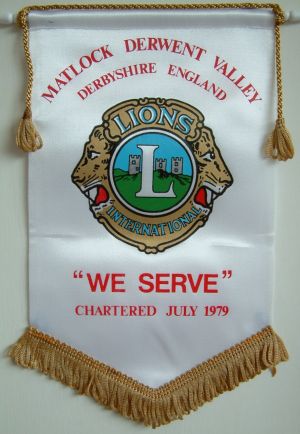 Business Meetings - 7.30pm on - 2nd Monday Social get together - 7:30pm on 4th Monday
The Square & Compass
Darley Bridge
Darley Dale
Matlock
DE4 2EQ
We would very much like to see you there one day as a new member of the Club!

Follow us on Facebook
Serving the community
If you are new to Lionism, through these pages you will be able to find out about the work of the international organisation of Lions and our Lions Club in particular. We are always keen to increase our membership hich is open to men and ladies. Through Lionism you can make real friends locally, nationally and internationally and also develop your skills in Leadership, Organisation, Publicity and Public Speaking. So if you think you would like to have some fun and also help to serve the local community, please contact us using the "Contact us" screen. We will then get in touch with you to arrange a meeting to tell you more about how our Club works and what you could get out of joining us. If you are a Lion, and perhaps planning to visit our area, we hope that the information on our website will encourage you to visit us.
Do you have some time to spare?
For those people who do not wish to become full and active members of a Club we invite you to become a Friend of Matlock Derwent Valley Lions, come along to our social events, and if your are able, help us with some of our projects:
Community Service
Lions on Loan projects where we lend manpower to local organisations who do not have sufficient members to run their own event
Supporting events for Chernobyl Children Life Line
Fundraising
Street Collection
Santa's Grotto as part of Matlock Victorian Weekend
Collections at Supermarkets
Any help is gratefully received - and hopefully you will enjoy the activity!
Derbyshire County Council Excellence in the Community Award 2011
The Club are proud to have received this award from the Council in respect of the Fundraising and Volunteering work which is undertaken.