Our History
Matlock Derwent Valley Lions Club was formed in 1979 as Derwent Valley Lions Club but because of a clash of names with a Club in Yorkshire, the name of Matlock was added later. To celebrate our 25th Anniversary a special badge was produced which is reproduced below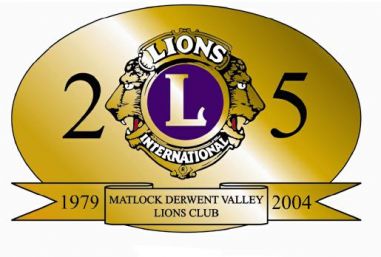 The international colours of Lions Clubs are purple and gold, the former representing loyalty to friends and integrity of mind and heart and the latter representing sincerity of purpose, liberality in judgement, purity in life and generosity in mind, heart and purse to those in need. The two headed lion in the emblem is looking back on our successes and forward to the future.
We are part of the Lions District 105E and details of other local Clubs can be found at www.lions105e.org.uk
Mission Statement
To empower volunteers to serve their communities, meet humanitarian needs, encourage peace and promote international understanding through Lions clubs.
Lions Clubs International is the world's largest service club organisation with 1.4 million members in approximately 45,000 clubs in 205 countries. Lions are men and women who volunteer their time for humanitarian causes. Founded in 1917 by Melvin Jones, our motto is "We Serve."
Charity Status
Matlock Derwent Valley Lions Club Charitable Incorporated Organisation is registered with the Charity Commissioners Number 1183660 Every penny raised from a Fundraising event is put in this fund with no deductions for any administrative costs. The only charge against each event is the cost of putting the event on. Any donations for a specific cause will be sent 100% to the cause.
Donations to such worldwide tragedies as earthquakes and other disasters are usually sent through our International charity, Lions Clubs International Foundation, who again do not deduct any expenses from money sent to them. This charity has been recognised by the United Nations as the Best Non- Governmental Organisation.

Our Ongoing Projects
If you would like us to come and talk to your group about Lions and the items we distribute please contact us and we will gladly come along.
MAGNIFIERS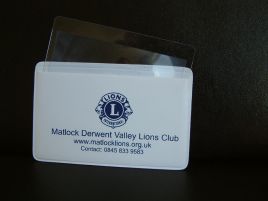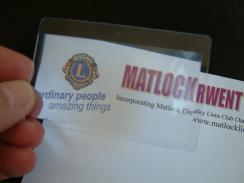 Our latest Community Project is a plastic credit card size magnifying glass which comes in a protective wallet and can easily be carried in a purse or wallet. It is useful if people want something quickly to enable them to see things clearer and can be obtained from any of our members.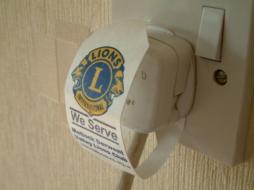 The 'Plugster' is a simple device that makes the removal of electric plugs from the socket easier for those with arthritis or similar problems and aids the identification of appliances. The design of most moulded 13 amp electric plugs makes them very difficult to grip and unplug. For anyone with a grip problem it can be almost impossible to grip and pull a plug out of the electric socket. When plugs are put into four-way extensions, the plugs are so close together that most people cannot grip both sides of any of the plugs. The Plugster was designed to help the elderly and disabled by Ian Davies, inspired by his own chronic illness and a desire to help others with a task that many take for granted. The Plugster is a shaped piece of reinforced/strengthened paper which loosely wraps around the plug and secures at the back of the plug over the three pins. It forms an extra strong handle, that makes it easy to remove plugs from their sockets. The Plugster can also be easily labelled which means, no more pulling out the wrong plug! The Plugster can also help prevent falls in the elderly. When gripping and pulling a plug out, their balance can be affected and if their grip fails then they could lose their balance and fall over. Matlock Derwent Valley Lions Club are very pleased to be able to make available packs of three Plugsters to anyone who thinks they would assist them and contact should be made with us via the Contact Us page.
MESSAGE IN A BOTTLE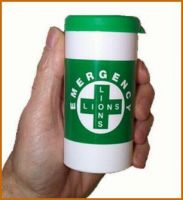 This simple, but very effective scheme, encourages people to put all their personal and medical details on a form and leave this in a plastic pot, illustrated above, in their refrigerator. A label on their front door alerts emergency services that they are using the scheme and can save valuable time if emergency treatment is required and nobody else is in the house. The pots can also be placed in cars, caravans, boats or any place you are likely to be when this vital information is needed. Pots can be obtained through Club members or from many doctors and pharmacies in our area including Hannage Brook Medical Centre, Wirksworth; Manor Pharmacy Bank Road, Matlock; B Payne & Sons Ltd Market Place, Cromford and Market Place, Wirksworth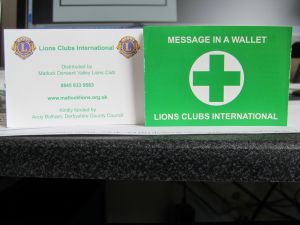 Our latest idea complements Message in a Bottle as it holds the same information but this time in a handy credit card size plastic wallet which can be kept in your purse or wallet. This means the information is always with you and would be available in case an accident occurred outside the home.
USED SPECTACLE & HEARING AID COLLECTIONS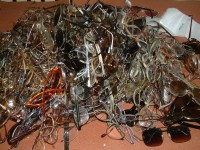 This should be the mystery photograph really!! Can you make out that it is a pile of old spectacles? These are waiting to be boxed up and sent to Chichester.

When you get a new pair of glasses you may simply throw the old pair away thinking they are no longer any use. However the Club regularly collects old spectacles which are then sent to the Lions Club in Chichester. They are graded, the prescription checked, cleaned and mended when necessary and then shipped to France. They are then held in a bank for use by surgeons carrying out eye operations in Third World Countries where people are unable to afford a pair of glasses to help their sight. (For more information go to www.chilions.org.uk/specs.htm). Collection points where you can hand in your old pairs of spectacles are as follows:-
David Bray
6 Bank Road
Matlock

Vision Express
13 Causeway Lane
Matlock
Youlgrave Surgery
Dale Opticians
1 Dale Road
Matlock
Fosmans
7 St. Johns Street
Wirksworth
Winster Doctor's Surgery
Darley Dale Chemist
Cromford Post Office
Eye Place
Bakewell
Tideswell Pharmacy
Specsavers
Crown Square
Matlock
Imperial Road Surgery
Matlock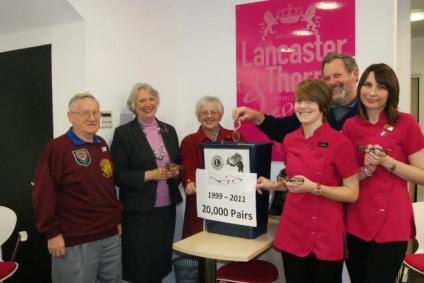 Since 1999 when we started the scheme we have collected 53055 pairs of spectacles for recycling and our thanks are due to everybody who has helped us reach this total. The photo shows one of our collection points celebrating the 20,000 figure.
We can now also recycle old hearing aids so these can be handed in at the same collection points. So far 82 sets have been collected. However in January 2017 we had a substantial donation of old aids from Chesterfield Royal Hospital Audiology Department who contributed 11,400 to our collection. These will all be checked and refurbished and will then be available to Developing countries to assist those with hearing problems.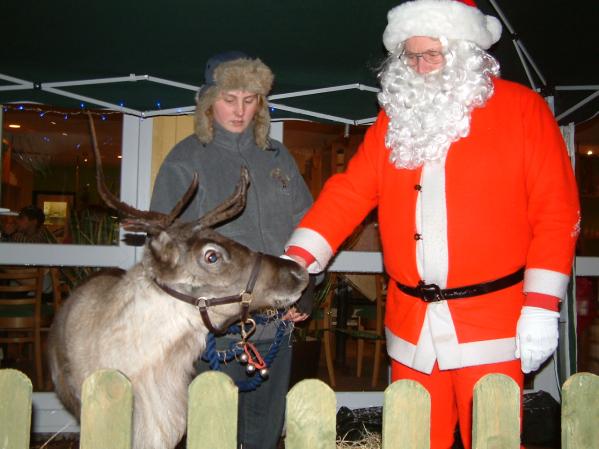 Each year we have a grotto as part of the Matlock Victorian Weekend. Santa has been known to be completely exhausted after seeing 320 children in two days but he bravely returns each year to keep the youngsters happy and collect their wishes for Christmas presents.

All Lions Clubs support this Charity which has over 40 years experience and provides a life-saving identification system 24/7 for people with hidden medical conditions and allergies. All members wear a bracelet or necklet engraved with a personal identification number, main medical condition(s) and an emergency telephone number. In an emergency, medical personnel have immediate access to vital information on the back of the MedicAlert disc and by phoning the emergency number, they can also gain further medical and personal information such as your name and address, doctor's details, current drug therapy and next of kin details. We recommend you should become a member if:-
You have any type of hidden medical condition
You have an allergy
You have had any type of inplant
You take regular medication
You would like your blood group to be recorded
You have a living will or wish to be an organ donor
You simply want someone else to know if you have been involved in an emergency.
The cost starts at £19.95 for the emblem plus the first year's membership of £25. Details from
www.medicalert.org.uk
Lions on Loan
We have operated this scheme for a number of years and this is where we show our community support by helping people who do not have enough manpower to run their own events. Lions will provide support by arranging for more helpers to be available on the day.